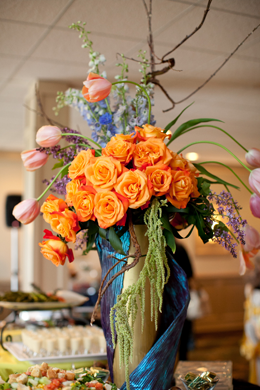 R&R went above and beyond for us in every way possible. They deserve 10 out of 5 stars!
In the months leading up to the wedding, we worked with Laura Ritchie to design our menu and the look and feel of the reception. Laura is very professional, accommodating, knowledgeable and she has incredible style. She really helped us pull together the wedding of our dreams. She created a layout map of the reception site for all of our vendors to use, was in periodic contact with us to make sure we were on schedule and that nothing had changed, and did a walk-through of the reception site with us so that there wouldn't be any surprises the day of the wedding. We really appreciated all of her attention to detail – we knew we would be in great hands.
The day of our wedding, the biggest snowstorm in the past 70 years hit DC.
We are proof of R&R's incredible customer service. Despite two feet of snow and dangerous road conditions, R&R arrived at our reception site and had everything set up and looking beautiful for us and our guests. We heard after the fact that Laura and Norma even made a run to a nearby liquor store before cocktail hour when they heard that the truck with the alcohol got stuck in the snow. Despite all of the factors working against them, the food was DELICIOUS and everyone raved about dinner.
I can't imagine how things would have turned out if it was not for Laura and Norma and their dedication to making our wedding happen. We know that many other caterers would have stayed home and sent the number to a pizza delivery company! We are so appreciative of everything R&R did for us!
---
Thanks so much for sending those photos of the Atrium – the room just looked AMAZING! We could not have been happier with the way everything turned out. The tables were beautiful and the food was fantastic. You were so wonderful to work with too – everything you did was greatly appreciated by us. We did a great job coordinating everything!
The honeymoon was great – The Cayman's were in a bit of a rain season, but it never rained more than 15 minutes each day. The island was pretty empty which was nice – we never had to wait for a table and there weren't a million tourists.
If you ever need a reference, please feel free to use us – you and R&R made our day so memorable and we greatly appreciated it! I've attached some photos to the email….I'm also mailing you something to R&R.
Hope you are doing well!
Mary J
---
Laura Ritchie and R&R are rock stars. Amazing food, great plattering/plating, edgy looks, super fun to work with, and most importantly, they delivered! They truly delivered an amazing wedding for us. We were so pleased with the entire experience! The staff, supervisor, Chef Mike and all of the lovely people who assisted Laura (our event designer) in making our day perfection are heroes! I did not have to worry about a thing and they made us feel pampered and at ease the entire night. I can't wait to have another event with R&R and Laura is the only one I hope to work with again!
Mary Elizabeth and Tom
---
Wow, what can I say about R&R? For starters, the food was delicious!! That is seriously one of the most common comments from our entire wedding... haha. Second of all, the set-up for our reception was gorgeous! The R&R staff took full control and made sure the entire place looked great. They did a fantastic job with little to no input from me! Finally, the staff was amazing! I seriously don't remember seeing them the entire night but somehow the food was served, cleared, and tables cleaned and all of our guests were fed and happy! Sign of a fantastic caterer. R&R seriously did everything a fantastic caterer should do! WELL worth their money!
On a more personal note, our event designer Claudia was an absolute god-send for our wedding. From the moment we started working with her on our catering plans she was professional, organized, excited and treated us as if we were her only clients the ENTIRE time! There were times where we felt like she was just as excited about our wedding day as we were, which was amazing! About 2 hours before the start of our wedding, several issues came up at our wedding venue that were far beyond our control and Claudia did everything in her power to make things right. The venue we used gave incorrect information on table numbers, chair numbers and didn't move pieces of furniture that they were supposed to move and Claudia managed to rearrange her entire layout/plan at the very last minute to make things work exactly as we had hoped. She handled the entire situation professionally but made sure issues were dealt with and that our wedding happened the way we had hoped it would. We could not have pulled off what we did (at the last minute that we did) without Claudia. She was amazing!
Amanda Fedder and Tim
---
Anne, Norma and the rest of the staff at R & R Catering were amazing! The food was delicious and blew all my guests away. My officiant even said it was the best food he'd ever eaten at any wedding!! We had a plated dinner, and the staff served everyone at the table the same time, and acted very professional. All my guests complimented us and were so impressed with the taste and presentation.
This was a destination wedding, and Anne helped to make it such a smooth process. She was quick to answer emails, phone calls, etc. She also helped me out so much before the wedding, setting up linens and tables. She took care of everything and always had a smile on her face. She really helped keep me calm! I had such a wonderful experience with them; I would recommend R & R Catering to anyone!! Thank you so much for making my special day even more perfect!
Andres Horton
---
My husband and I recently got married and R&R did an amazing job setting up and working our event! The room turned out AMAZING!!! Dianna Gilbert was our event designer and she bent over backwards to make sure our day went smoothly and flawlessly! If there WERE any problems I had no idea they had occurred :)
When it came time for dinner R&R even served my husband and I along with the bridal party so that we could make sure to eat. They also made up a take home doggy bags of food for us after the wedding. So many of my guests came to myself and my husband talking about how awesome the food was. The staff was friendly and very accommodating to all of our guests. Couldn't have asked for anything better!!!
Brittany Moser
---
Dear Michelle,
I would like to commend one of your event designers, Natalie Seng, for the great job she has done on the brunch reception to be held at Hendry House on August 16. From the day I first contacted R&R, Natalie was immediately responsive, courteous and personable. Her understanding of both the professional and personal aspects of event planning is outstanding and made the experience of putting together a menu and a venue for a celebratory brunch pleasurable as opposed to nerve-wracking.She has been a reliable and helpful asset to me in arranging this event- over and above what I would expect from a "caterer" and a wonderful reflection on R&R.You are very fortunate to have her- and I am very glad that you do.
Sincerely,
Pat Meyers
---
R&R Catering and our coordinator Dianna Gilbert did a great job catering our wedding. Dianna was incredibly responsive and helpful during the entire process and really worked with us to keep the costs within our budget.
They did a great job setting up the reception and making the last minute changes when we had to move everything from outside to the inside when it started raining right before the ceremony. They have a very extensive menu and the food at our tasting was wonderful. We are still getting compliments on the food from the wedding. Many people said that it tasted far better than the typical "wedding food" they normally get. While walking around to each table to say hello everyone had cleaned their plates and many had gone back for seconds! They even packed up the leftover food for us at the end of the night to take home and it still tasted great the next day after warming it up.
I would definitely recommend R&R Catering for any event and specifically Dianna Gilbert as a coordinator. They did a great job!
---
Happy Mother of the Bride:
Dianna Gilbert with R & R Catering is just amazing! We had only 3 weeks to pull together a wedding ceremony and reception for our daughter. With Dianna's professional experience she advised and provided guidance with everything from a delicious menu to setup and chairs and tables, linens, etc. R & R Catering provides the extra added touches to your reception that other less expensive companies would not even think about providing. As the Mother of the Bride, I was able to just relax enjoy the evening with our guests and enjoy watching our daughter and son-in-law on their big day! Thank you Dianna and R & R Catering for your beautiful presentation. We have 3 daughters and would love to use you again in the future. I highly recommend you!
WEDDING WIRE REVIEW:
Quality of Service: (5.0/5.0)
Responsiveness: (4.5/5.0)
Professionalism: (5.0/5.0)
Value For Cost: (5.0/5.0)
Flexibility: (5.0/5.0)
Services Used: Catering
I worked with Dianna at R&R Catering and my wedding day was perfect! The food was excellent and guests are still raving about it over a week later. Dianna worked closely with me (and was patient with my mom) to figure out how I wanted to set up my venue and it was beautiful the day of my wedding- I didn't have to give the food or the service a single thought. My husband and I were quickly served our food once we entered the reception and they packed us a ton of leftovers at the end of the night. Guests had a couple spills at the tables and on the dance floor that were quickly and discreetly cleaned up. I cannot say enough good things about R&R and Dianna!
---
HAPPY CLIENT WEDDING WIRE REVIEW
Quality of Service: (5.0/5.0)
Responsiveness: (5.0/5.0)
Professionalism: (5.0/5.0)
Value For Cost: (5.0/5.0)
Flexibility: (5.0/5.0)
Heidi from R&R was one of the best vendors that I had the pleasure of dealing with for our wedding. She was always super responsive and made the process very easy. We got a lot of compliments on the food that R&R provided and we would definitely recommend them to anyone planning a wedding in the DC metro area. They were fantastic :)
---
Heidi Harrington and her team at R&R completed our perfect wedding day! I have previously worked with R&R (as well as many other caterers in the area) at a venue I used to work at, and wouldn't have chosen any other caterer. Before I was even engaged, I knew we would work with Heidi at R&R. Their food is delicious, service is outstanding, and their presentation is over the top. Several of our guests commented on how delicious the food was ("not your typical wedding food"). They also commented that it was the was most beautiful wedding reception they'd ever been to, and that is all thanks to Heidi and her team. She truly brought our vision to life, creating the most magical day we could have dreamed of. They feel like family and are a joy to work with. I highly recommend R&R to any brides in the area looking for a caterer!
Amanda
---
Heidi and her team made our wedding truly special. My husband and I had searched far and wide for a catering company that would suit our needs and fall within budget. R&R Catering did both! Not only were they accommodating while setting up(...multiple) tasting for us but they helped us design a wonderful setup and beautiful tables. I had so many people come up to me afterward and rave about the food.
Thank you so much for making our day memorable!
Jana
---
FROM RMC REALTY MANAGEMENT COMPANY:
Hi Natalie,
The food was excellent! Thank you very much and our compliments to the chef for the little extra that we received. The only words that you would hear were hmmm… delicious. I will certainly be contacting you for all of our future events. I really do appreciate the fact when people go above and beyond to provide good service.
Happy Holidays to you and everyone at R&R Catering!
Regards,
Maribel Moran
---
HAPPY CLIENTS:
Hi Natalie,
The two things I hoped and prayed for second to God blessing the marriage was that my daughter would smile for days and the guests would really, really enjoy themselves. Had it not been for you specifically and R & R these things would not have had the impact they did. My heart is happy and grateful for you.Thanks so much!
Most Sincerely,
Linda Rhodes
---
Natalie,
I just wanted to thank you for all your wonderful assistance and patience with our recent rehearsal dinner. The simple room was transformed that evening, thanks to the beautiful table settings you so graciously guided me to. The food was very good and the amounts were more than adequate, definitely exceeding my expectations. I was really struggling when I first started the planning, and really lost with all the options before me, but with all your help, it turned into a perfect evening. Thank you very much.
Sincerely,
Kitty Powers
---
Natalie,
I just wanted to take a minute to write a note of appreciation to R&R Catering. The crew you sent was attentive to our party's needs and did a great job all around. Camilla went above expectation and even helped us out with taking some group shots of the guests. She also did a great job of offering valuable advice on set-up that I was seeking since there was so much to do before guests arrived. Everyone had a great time and enjoyed the catering.
Thank you, Natalie, for all of your assistance.
Best regards,
Laura Curtin
---
EXCELLENT!! We had Natalie as our contact and she was the best, extremely helpful and very friendly! We heard so many good reviews about R&R that we did not even do a tasting, and we didn't need to-the food was OUTSTANDING! I had several people tell me that it was the best wedding foor they had ever had! Beautiful presentation as well! Highly recomended! They also allow you to purchase your own beer, wine, and soft drinks, which saves a whole lot of money if you go to costco and buy them!
Jenna
---
Hi Rachael,
Just wanted to let you know how pleased we were with your catering....the tables all looked great...the servers were really excellent and very kind...and the food was amazing....everyone raved how wonderful the evening was and they all commented on how delicious the food was....so thank you sooooo much for everything...it was everything we anticipated and more....(We even had fireworks go off over the Washington Monument around 10 and, of course, I told them that I was the one who ordered them, we all laughed..the timing couldn't have been better)
Thank you again,
Arlene Keeling